K+IC System
Our KIC – System was developed for patients that have problems with urinary incontinence in between self-catheterising. Ordinarily, this could mean having to fit a new urinary sheath several times a day or wear absorbent pads.
The KIC-System includes a sheath with a removable connector tip, and it enables the user to use the special sheath expander tool and pull it back over the shaft of the penis so that self-catheterisation is possible.
Following catheterisation, the sheath can be returned to its original position and reconnected to the existing drainage system.
This procedure can be repeated any number of times throughout the day. It is less time consuming and more cost-effective.
ORDER A SAMPLE
Features and benefits
---
Application
1:
Hold the sheath between thumb and index finger, pull the open end of the sheath over the disc of the connecting piece, and ensure that the connecting piece is correctly aligned.
2:
Push on the outer sleeve of connecting piece and screw into place.
3: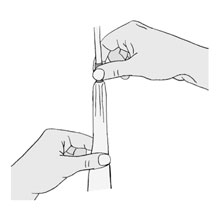 Pull the sheath and the connecting piece to check connection. Then, apply sheath as usual.
4:
To catheterise, remove the black plastic connector from the sheath.
5:
Insert the closed prongs of the sheath expander into the hole on the end of the sheath.
6:
Expand the hole at the end of the sheath by closing the scissor handles.
7:
Move the sheath expander and sheath towards the body over the tip of the penis.
8:
Clean area of any residue left over from catheterisation and bring the sheath expander and sheath back over the tip of the penis, away from the body.
9: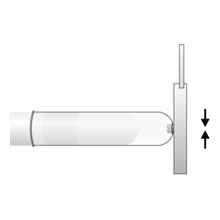 Close the sheath expander by opening the scissor handles and remove the sheath expander.
10:
Re-connect the sheath to the black plastic connector and ensure by pulling that the connection is secure.
Order information
| | | |
| --- | --- | --- |
| Size | FP 10 Code | PIP Code |
| ⌀ 24mm | 103.24 | 256-3674 |
| ⌀ 26mm | 103.26 | 256-3682 |
| ⌀ 28mm | 103.28 | 256-3690 |
| ⌀ 30mm | 103.30 | 256-3708 |
| ⌀ 32mm | 103.32 | 256-3716 |
| ⌀ 35mm | 103.34 | 256-3724 |