Self-adhesive Sheaths b.sure
Connecting tube
To connect to all urine collection bags available on UK prescription
Length: 50 mm.
Buffer zone
Offers a sufficient buffer in case the wearer voids a lot of urine in order not to strain the adhesive. The powder gives a slightly milky look to the buffer zone and avoids the material of the male external catheter sticking together during its use.
Length: 45 mm
Adhesive zone

A stronger but smaller area of adhesive than the p.sure range but still suitable for most users. Within the adhesive zone the sheath is transparent making an assessment of the skin possible at any time without having to remove it.
Length: 25 mm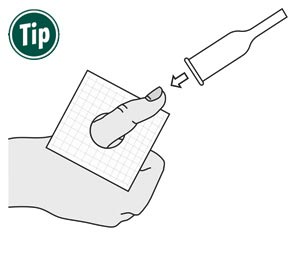 A 22 mm diameter thumb-sized condom can be ordered to allow the user to practice handling the self-adhesive condom. It can be used to test the separate steps of the adhesion procedure on the thumb: to find out how to deal with problems should they arise, how to avoid crinkles, and to learn where the adhesive zone begins.
Pull over the protective cloth so that the pubic hair is kept back and doesn't interfere with the adhesion process.
Unroll the sheath at least three rolls before you start applying (to the tip of the penis). This is to provide the required buffer zone between the penis and the tip of the sheath and the correct position of the adhesion area. If the sheath is difficult to unroll, it will be helpful to stretch the connecting tube gently.
Put the sheath on the foreskin without pulling the foreskin back, and carry on unrolling until you come to the end of the talcum powdered zone. The part of the sheath still rolled should be roughly in the middle of the penis now.
When unrolling further, you get to the adhesive zone. From the start, make sure you unroll the sheath evenly. To make the unrolling easier, you can also stretch the connecting tube.
Check the position of the sheath and the adhesive zone, then press it carefully around and against the penis.
To avoid pressure marks, or if the penis tends to retract when passing water, you can remove the remaining rubber ring behind the adhering area by cutting or pulling it right off.
To prevent tearing, make the cut all around the sheath. When cutting or tearing off, hold the sheath to the adhering area.
Always fit the leg bag to you leg, adjust the inlet tube length if required and then connect the outlet tube of the sheath to the inlet connector of the leg bag. This connection can be made easier by slightly wetting the plastic connector before the connection.
Self-Adhesive Sheaths
SAUER-Comfort – Standard
synthetic material, latex free
connecting tube
buffer zone 45mm
strong adhesive in 25mm band
Available in 9 sizes
| Description | QTY | Order Code | PIP Code |
| --- | --- | --- | --- |
| Size Ø 18 mm | 30 pcs | B18 | 401-8511 |
| Size Ø 20 mm | 30 pcs | B20 | 401-8529 |
| Size Ø 22 mm | 30 pcs | B22 | 401-8537 |
| Size Ø 24 mm | 30 pcs | B24 | 401-8545 |
| Size Ø 26 mm | 30 pcs | B26 | 401-8552 |
| Size Ø 28 mm | 30 pcs | B28 | 401-8560 |
| Size Ø 30 mm | 30 pcs | B30 | 401-8578 |
| Size Ø 32 mm | 30 pcs | B32 | 401-8586 |
| Size Ø 35 mm | 30 pcs | B35 | 401-8594 |